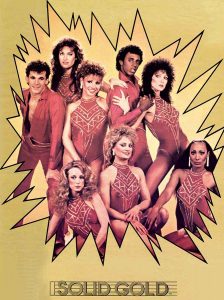 Solid Gold is an American television show featuring dancing and popular music. The broadcast began on September 13, 1980 and continue until July 23, 1988. The show airing on Saturday night.
The weekly one-hour show featured the week's top hits in pop music. Sometimes guest performers appear to sing their songs. The Solid Gold Dancers are always with sexy costumes while dancing on such hits as "Joan Jett – I love Rock and Roll" and "Olivia Newton – Heart attack". The show was filmed in front of a live audience in a two day period every two weeks. The show was very popular with a good rating.  Especially during the first tree seasons. Solid Gold lasted 8 amazing seasons. The dancers appeared on magazines, posters, calendars and other. They were replaced very often. Several times per season.  The producer of the show was the talented Bob Banner for the first few seasons and the entire series produced Brad Lachman. Three choreographers worked for the show – Anita Mann, Kevin Carlise, and Lester Wilson. Their talent can be seen in the dancers work.
I suggest you watch these amazing gold dancers' performances. And because I want to inspire you – I attached this video below. Enjoy it and tell me what do you think!