Have you ever wondered why Beyonce dancing at the same time with grace and strength? Or why are the Pussycat Dolls perform are so sexy? Or how does Ciara conquer the audience with its incredible movements? The answer is easy – they all dance in high heels! And make it look so easy.
Salsa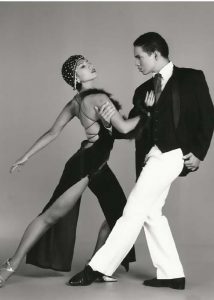 Salsa originated from Cuba. It appeared in the United States in the 1960s.  It is usually performed with a partner.
The salsa is very spontaneous and complex music, and the dance is alive and sexy. It can be quite slow or really fast, and rhythm can change during the song.
In the 1970s salsa spreads all over the world becoming very popular among people.
DanceSport dances
These are all dances that are performed with a partner and, apart for pleasure, are also practiced for competitive purposes. Here are: the Latin American styles – samba, cha-cha, rumba, pasodoble, jive, as well as the standard ones – waltz, tango, slow foxtrot and quickstep. Sports dances are known for their glamorous and eye-catching costumes. In order to show the fiery rhythm of Latin American dances, the lady dresses a dress with stones and/or fringes, and the partner is an attractive shirt.
Flamenco
Flamenco dancing is very colorful and varied because it takes elements other than gypsy and andalusian culture, as well as Oriental, African, Latin, Egyptian and other cultures. Each flamenco dance brings a certain mood, rhythm and a manner of dancing and is performed on various occasions. Some dances are fun and festive. They are faster than others and the movements are freer. Other dances express pain, sadness, agony and dance with greater tension, while others represent the encounter between man and woman and have certain parts of acquaintance, contact and expression of individuality.
Hip Hop
Hip Hop Dance originated in 1970. It's not just a dance, it's a whole culture with inherent habits, dressing and behavior. Hip-hop is a multi-layered style, as movements are constantly changing – smooth, fast, slow… Relaxed and relaxed movements combine with sophisticated choreographic techniques. Hip-hop will teach you to hear real beats – find it at the bottom of the melody and feel it with all its essence. Hip Hop in high heel improves the balance, the posture and the correct body position. It drives the muscles of the body to work while developing the ability to moving in high heels. This is a great way to maintain a form, increase your self-esteem and sex appeal.
Jazz Funk Dance
Jazz Funk is one of the newest and most popular dances worldwide. Born in Los Angeles at the beginning of the 21st century, he quickly became dominant in the choreographies of musical giants like Beyonce, Madonna, Lady Gaga and others. The style is based on the combination of hip-hop, jazz, vogue and walking. Characterized by maximum femininity, plasticity, dynamics and expressiveness.
What more sexy than a graceful high heels dance?! With these dances you have the opportunity to uncover your feminine side, to attract the attention of others with every step and look.